Here's the instructions ( taken from Blogger help) of how to create a Google account and follow my blog ( and others). Trust me, once you sign up and start adding blogs to your Reading List- you'll never need to buy another magazine again- there's so much reading pleasure to be had : )
Creating a Google account
Google Accounts is a unified sign-in system that gives you access to:
Free Google products, including iGoogle, Gmail, Google Groups, Picasa, Web History, and more.
AdWords and Google Checkout.
If you've used any of these products before, you already have a Google Account. To try new Google products, simply
sign in
with your existing Google Account. Your account username is the email address you entered when you created your Google Account. If you use Gmail, sign in with your Gmail username.
If you don't have a Google Account, you can
create one now
.
Following blogs
Following a blog shows authors and readers of the blog that you're a fan, and you can keep track of the blogs you follow via your
Reading List
on the Blogger dashboard. Following a blog will also create a subscription to the blog in your
Google Reader
account.
There are several ways to follow a blog. One of the easiest ways is to visit a blog that has added the Following widget and click on the "Join this site" button under the "Followers" widget: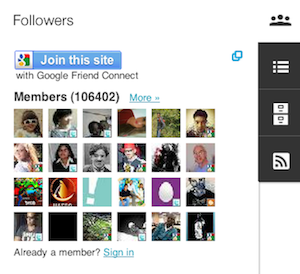 After you sign in with your Google Account (or another account if you so choose), you'll then see a popup window with the options to either
follow publicly or privately
.
Select how you'd like to follow the blog, then click the "Follow this blog" button. If you elected to follow the blog publicly, your profile picture will be displayed on the blog with a link to your Blogger profile or Google+ profile (if you've opted to link your blog to your Google+ profile).
When you become a follower of a blog, the blog will also be added to your
Reading List
on your Blogger dashboard. You can become a follower of any blog or URL (even if the blog doesn't have the Followers widget) by adding the blog to your Reading List on the dashboard.